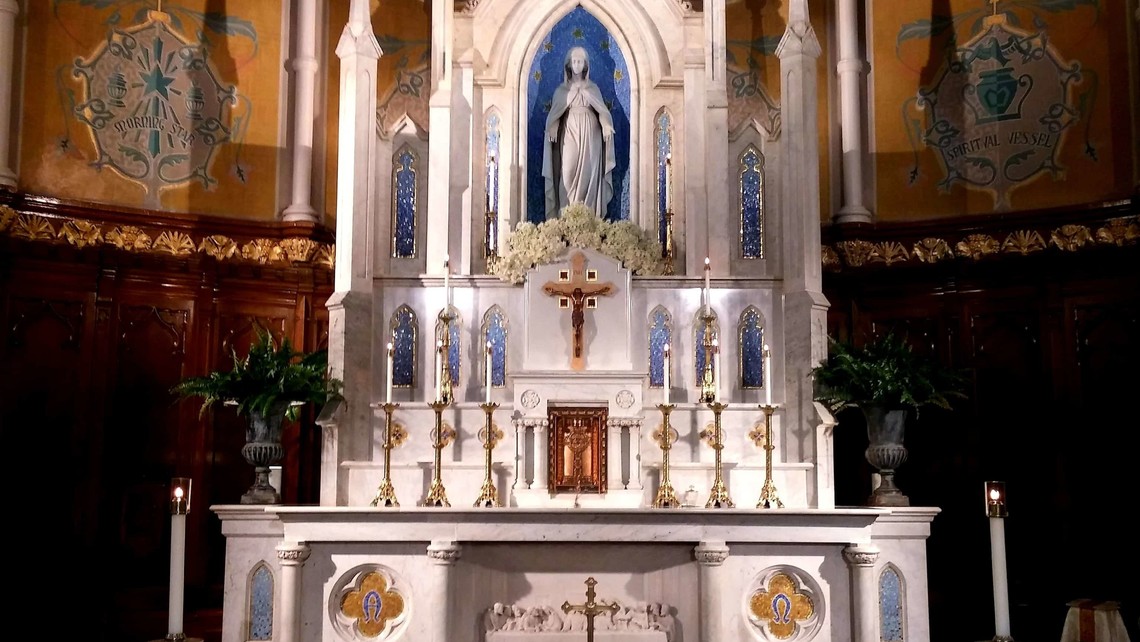 New to the Traditional Latin Mass or Novus Ordo? This short and simple guide to Catholic Mass will give you an easy method of praying at Mass.
The Ultimate Simple Guide to Catholic Mass
Praying at Mass:
(Ordinary and Extraordinary Form)
If you have been away from the Catholic Church for a while or are new to either to Mass in Ordinary Form (Novus Ordo) or are making the leap to attending the Extraordinary Form (Traditional Latin Mass/TLM) it can be a little intimidating.  But Catholic Mass for beginners is easy and wonderful and if this describes you I assure you that you have nothing to worry about.  But, I do want to give you a couple of tips before you start perusing the Simple Guide to Catholic Mass. 
1. Arrive Early and Pray
It is really important to arrive early and pray before the Mass.  In general, a good way to structure your prayer is as follows:
 
Give praise and glory to God
Read the Epistles and Gospel and reflect on it.
Think about the times you have fallen and ask for pardon and mercy for your sins.
Pray for yourself, the Church, and your family, friends, any other petitions
Give thanks to God for all his blessing.
 
2. Attend with Attention, Reverence, and Devotion – Pray the Mass with the Priest.
If you are new to attending Mass in general or are starting to go to the Extraordinary Form/Traditional Latin Mass (TLM), the best method is to just watch, and take it in.  Don't worry about knowing or saying the responses.  Remember, the Mass is the most source and summit of the Christian life.  But don't get intimidated or overwhelmed.  Just prayerfully reflect on what you see and hear, even if you don't understand everything.  Both forms of the Mass are more similar than some people let on.

If you have been attending Mass for a while, no matter the form, you will eventually have a good grasp on the order.   Whether you attend the Extraordinary Form, Ordinary Form, Ordinariate, or an Eastern Rite you should be praying the Mass with the priest.

Eventually you will need to pick up a missal.  The missal, or missalette, is an in depth Guide to Catholic Mass. When you open the missal, I would start by finding the Mass date you are on reading the Epistle's and Gospel, reflecting on them.  Then, following along, slowly praying at Mass some of the prayers from The Ordinary (The parts of the Mass that don't change from day to day) you will be fully engaged in the worship of the Mass, even if you are unable to understand or know what part you are at at any given time.  You won't be able to keep up with any of the Masses if you are new.  Just be patient and it will come with time.
When there are responses, try to focus on what you are saying.  Don't just say them.  Pray them. 

3. Simple Guide to Catholic Mass to Get you Through the Traditional Latin Mass or Novus Ordo
I. Penitential Act/Confiteor
Ordinary Form/Extraordinary Form
Think About:  A certain sin or sins that you have been struggling with and admit in your heart to falling short and ask for prayers and help.
Short Meditation for Praying at Mass: Take away from us our iniquities, we beseech Thee, O Lord; that, being made pure in heart we may be worthy to enter into the Holy of Holies. Amen
II. Kyrie Eleison
Ordinary Form/Extraordinary Form
Think About: How good and merciful is our Lord Jesus Christ for giving himself to us through His crucifixion despite our failings and constant turning away from Him. 
Short Meditation for Praying at Mass: Lord, have mercy on us
III. Gloria in Excelsis
Ordinary Form/Extraordinary Form
Think About: The creator of the universe, has every hair on your head counted and loves you with an unfathomable depth.  He is the good king who came to earth and showed us how to live.  He has suffered as we suffer and he has wept as we weep.  Our God knows what it is like to be you and wants to take away your sins and to forgive you.  He is a true King.
Short Meditation for Praying at Mass: Glory be to God on high.  We praise Thee. We bless Thee. We adore Thee. We glorify Thee. For Thou alone art holy. Thou alone, O Jesus Christ, together with the Holy Ghost, art the most high in the glory of God the Father.
IV. Liturgy of the Word/The Epistle & The Gospel
Ordinary Form/Extraordinary Form
Think About: We are people of the Good News.  Our God loves us and proved it through his suffering on the cross.  Have a heart filled with joy as you hear the readings and the Gospel.  The way of trust and love is Good News.
Short Meditation for Praying at Mass: Cleanse my heart and my ears, O almighty God, and in Thy loving kindness so to purify me that I may be enabled worthily to hear Thy holy Gospel. Glory be to Thee, O Lord.
V. The Credo
Ordinary Form/Extraordinary Form
Think About: Do you believe everything in the Nicene Creed?  Then be joyful, have hope, trust, and don't worry so much. 
Short Meditation for Praying at Mass: For us men and for our salvation, He came down from Heaven.  He suffered and was buried. And the third day rose again…and will come again in glory, to judge the living and the dead: and His kingdom will have no end.
VI. The Offertory
Ordinary Form/Extraordinary Form
Think About: Pray for the souls of yourself, your family, and friends and the dead. Pray for the Church and any petitions you may have at this time.
Short Meditation for Praying at Mass: We offer unto Thee O Lord, the chalice of salvation. May it ascend as sweet odor before Thy divine majesty, for our own salvation. 
VII. Liturgy of the Eucharist/The Consecration
Ordinary Form/Extraordinary Form
Think About: "On the cross our Blessed Lord was looking forward to you, hoping that one day you would be giving yourself to Him at the moment of Consecration.  Today in the Mass, that hope our Blessed Lord entertained for you is fulfilled.  When you assist at the Mass He expects you now actually to give Him yourself…He passed through His consecration on the Cross that we might now pass through ours in the Mass." (Sheen, 43-44)
Short Meditation for Praying at Mass: My Lord and My God.  (Christ is truly present)
VIII. Lamb of God/Agnus Dei
Ordinary Form/Extraordinary Form
Think About: Jesus Christ, the spotless Lamb of God fulfills the Old Testament by allowing himself to be slain for the forgiveness of sins.  The power of true, pure, selfless, and courageous love is demonstrated by the fact that he rose again, and conquered the consequence of our sin, which is death.
Short Meditation for Praying at Mass: Let not the partaking of Thy Body, O Lord Jesus Christ, which I, all unworthy, presume to receive, turn to my judgement and condemnation; but through Thy loving kindness may it be a safeguard and remedy for my soul and body.
IX. The Communion
Ordinary Form/Extraordinary Form
Think About: During the crucifixion of our Lord he cried out, "I thirst."
"Men may hunger for God, but God thirsts for men…He had already expressed it in the parable of the Lost Sheep, when He said He was not satisfied with the ninety-nine; only the lost sheep could give Him perfect joy…He comes to us, so that we cease to be men and begin to be children of God" (Sheen, 47-48, 52)
Short Meditation for Praying at Mass: Into a pure heart, O Lord, may we receive the Heavenly food which has passed our lips; bestowed upon us in time, may it be the healing of our souls for eternity.
X. The Last Gospel
Extraordinary Form only
Think About: The light of love and truth shines in the darkness of a fallen world. 
Short Meditation for Praying at Mass: Hail holy Queen, Mother of mercy, hail, our life, our sweetness, and our hope!   To thee do we cry poor banished children of Eve, to thee do we send up our sighs mourning and weeping in this valley of tears.  Turn then, most gracious advocate, thine eyes of mercy towards us; and after this our exile show unto us the blessed fruit of thy womb Jesus. O clement, O loving, O sweet virgin Mary.
Pray for us, O holy Mother of God.
That we made be made worthy of the promises of Christ.
4. Prayer After Mass Concludes
It is encourage that you pray a prayer of thanksgiving for the opportunity to be close to our Lord in the Holy Eucharist and for His grace to help you through the week.  You can also pray for anything else on your heart.
We hope this helps!  Let us know how your first TLM or Reverent Novus Ordo Mass goes!
Pax,
Tony and Kendra
Prayers are excerpts from 1962 The New Roman Missal by Father Lasance
Sheen, Fulton J. Calvary and the Mass. Coalition in Support of Ecclesia Dei, Ltd., 1996.
Would you please share this post?