THIS WHOLE BEING A FAITHFUL CATHOLIC THING.  IT'S TOUGH.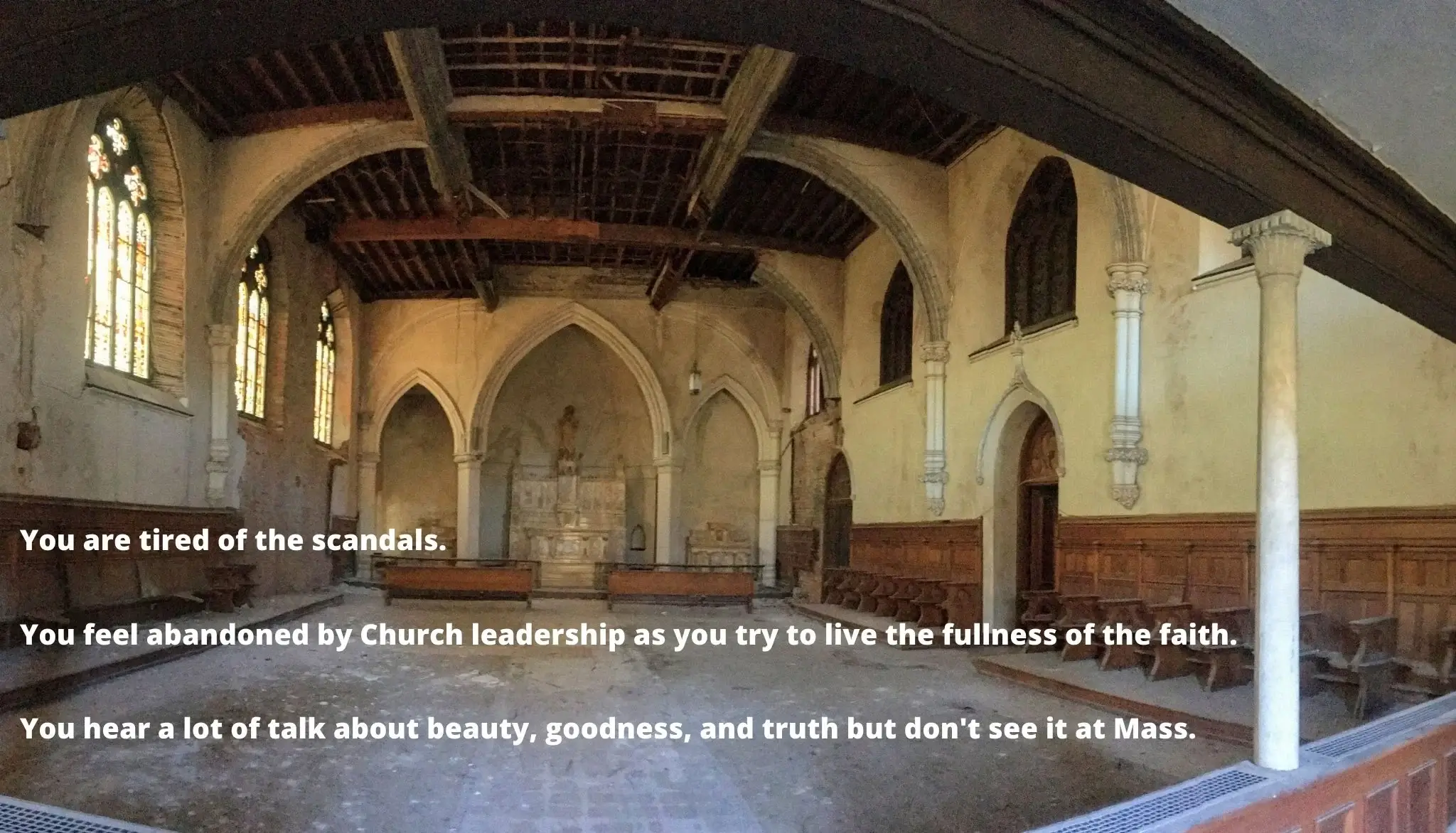 You wonder - What can I do? I'm not a saint.
With God's grace and faith the size of a mustard seed you can move mountains and transform yourself, your family, and society.
Be who God meant you to be and you will set the world on fire. - St. Catherine of Siena

We believe that with the right resources, every Catholic can join a supportive, reverent Mass community.
Reverent Catholic Mass is a brilliant, practical, easy to use website that helps you find a Mass in your area that leads you closer to the Lord by worshipping him in the "beauty of holiness." Learn more about traditional liturgy and build up the faith by using "Reverent Catholic Mass" and sharing it with friends!
This gives Faithful Catholics in the United States a tremendous resource. No longer must one hunt for a reverent Mass to attend. They're all listed for you, and mapped, at this website. Just pick the one nearest you and make plans to attend. It's as simple as that.
If the Eucharist is the "Source and Summit of the Christian Life",
than the Mass should reflect this reality.
Imagine going to Mass every Sunday knowing that it will always be reverent, always focused on our Blessed Lord, where your friends support you, and your parish challenges you.
When you become a member of the Reverent Catholic Mass community by signing up for our email list, you'll get the tools and the strategies to initiate the change you want to have in your spiritual, liturgical, and parish life.
.
Salutations! – We are Kendra and Tony.

After having a major awakening to the Catholic faith, we couldn't wait to share our newfound faith with friends and strangers and invite them to Mass with us.  But as we grew in our understanding of what the Mass is really about, we began to realize that our actual experience of the Mass and parish life was not reverent nor supportive of teaching the fullness of the faith.  It was bland, stale, and uninviting.
Everything changed when traveling and we attended a parish offering a very reverent Mass. Everything was beautiful.  The architecture, smells, bells, polyphony, and Gregorian chant drew our souls up towards the Heavens and we were in awe of the grandeur allotted to the eternal and almighty God.  It also happens that it was the most welcoming parish we have ever been to, being approached by several individuals who just wanted to know who we were.
We wanted that experience in our parish and with continued prayer, and help from Kendra's background in Church Management, we have successfully implemented outreach strategies in our nearby churches to foster a more welcoming environment and identified key indicators of healthy, liturgically reverent parishes, while encouraging continued reverent transformation at Mass.  In the process we realized that changing the culture in a parish begins with us.  
Today, we are part of a wonderful, very reverent, welcoming parish to call home and when we travel are able to easily identify solid, reverent parishes. And by sharing our resources, we believe we can help you join a supportive, reverent Mass community, too.
WE KNOW YOU HUNGER FOR A PARISH COMMUNITY WHERE THE MASS IS REVERENT, THE COMMUNITY IS WELCOMING AND FAITHFUL, AND YOU ARE SUPPORTED, ESPECIALLY WHEN YOU NEED IT THE MOST.
Start your new journey by looking at our Map and finding a parish near you. 
If there are no parishes listed nearby, then let's us talk about it.
I will definitely be using this resource next time we move.
If you're a Catholic, you'll understand the need for this site. It's ReverentCatholicMass.com. If you've had to endure a typical parish liturgy over the past, well, let's be honest, half century, you know why this is necessary. You'd like to go somewhere where there aren't felt banners or where the music isn't emasculating 1970's pap, or whatever. He's compiled a list of places where you can go and not be offended…as a cultured, civilized person, you can actually go and be enriched. So Reverentcatholicmass.com is the site.
- Tom Woods Show, Episode 1608
You can find the spiritual home you have been looking for and we want to help you get there. 
Please reach out if you have any questions.  We read every message that comes to us, but we can't promise we will be able to respond to everyone with the time we have.
Disclaimer
We are lay Catholics who are devoted to the authentic magisterial teaching authority of the Catholic Church.  We are not theologians nor do we hold any degrees or credentials from ecclesiastical authorities.  We try our very best to present our articles with accuracy.  We recommend that you confirm the the accuracy of our articles with your own research guided by the Bible, Catechism, and official documents of the Catholic Church.