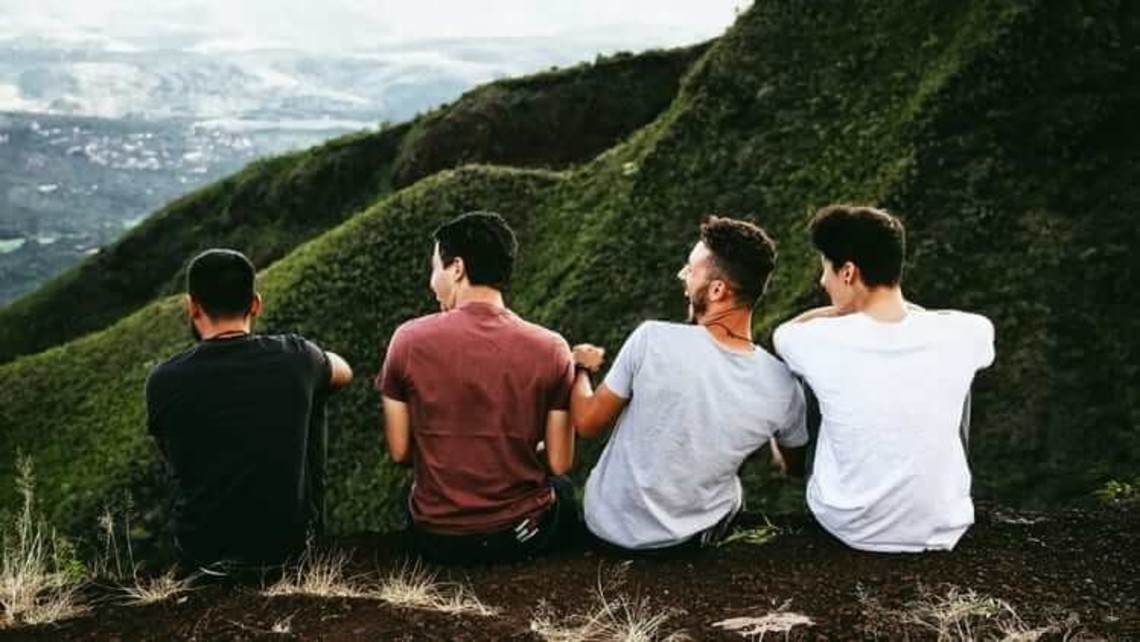 Saturday, August 8, 2020 - 11:22am
Do you wish you could make more Catholic Friends and find that it's surprisingly difficult?  Here are a few ideas that might help.
How to Make More Faithful Catholic Friends
3 Groups to Check Out to Find Holy Friendships
Have you ever felt like making new, solid friends is way harder than it should be?  We certainly know the feeling.  And meeting friends who are faithful Catholics can be even more difficult.
After we were married, we had our regular friends, but we realized that in regards to our faith and our Catholic worldview, we had very few friends whom we could connect with on a personal level about our faith and whom we could relate to.  When different life events occurred over the years, we longed even more for support from others whom shared our love and devotion for Jesus Christ. 

But we just did not have it.

The question is, why is it so hard to find other faithful Catholics friends?  We know they are out there.
Well, I'm happy to say, we finally found some and we want to recommend three really great groups to seek out and join, or create yourself, so you can have more friends who will encourage you and are supportive of your faith.  We can personally recommend them both from experience.
(For Single or Married)
Opus Dei means "The Work of God" and was founded by St. Jose Maria Escriva in 1928 in Spain.
Opus Dei is an incredible, orthodox, and faithful organization.  The spirituality is all about encouraging and helping the laity sanctify their lives in the ordinary ways we live.  Therefore, Opus Dei focuses on helping Catholics incorporate a relationship with God through prayer and sacrifice.
"The family, marriage, work – all of our activities – are opportunities for drawing close to and imitating Jesus, trying to practice charity, patience, humility, diligence, integrity, cheerfulness, and all the other human and Christian virtues."
Additionally, there is a focus on building friendships and charitably reaching out to others.
Personal Experience:  I have been on several Opus Dei retreats and events and have always found them to be wonderful.  I have made several friends because of it and it has given me a better path to pursuing holiness through my everyday life.
How it works and how to join: There is no obligation to ever show up, but you should make a personal commitment to attend an event at least once per month.
Opus Dei offers several different kinds of opportunities to participate.  They are all single sex events, separated by men's or women's groups.
To start out, try and find out if the following events are happening near you.
Recollections
Circles
Recollections
Opus Dei offers monthly Recollections at specific locations and all you have to do is find out when and where it's happening and show up.
They usually last about 2 hours and are generally structured as follows.
Show up when it starts and mingle or pray.
Recollection 1 - Reflect on the insights of a priest about following Christ and growing in holiness in the midst of your life. (Usually scripture based or from the Saints)
Opportunity for Confession and prayer.
General Talk – This talk is given by a Member of Opus Dei who is not in the clergy.It usually about working through family dynamics, the workplace, or friendships.
Recollection 2 - Reflect on the insights of a priest about following Christ and growing in holiness in the midst of your life. (Usually scripture based or from the Saints)
Benediction
Concludes with hanging out and catching up
Circles
Members of Opus Dei offer monthly Circle meetings where you are invited to a member's house.  You will need to find out who is hosting a circle to be invited.  But all it takes is calling around.
They usually last about 1.5 hours are generally structured as follows.
Show up at the start and mingle
Opening Prayer
Gospel reading
Prepared reflection by a member
Closing prayer
News and updates
Hang out for a while and catch up.
There is no obligation to become an official member or begin contributing ever.  However, like any association, you don't want to be a freeloader forever. It's a great way to grow in structured prayer and make new friends who are also serious about their faith.  So, check them out, call around, and find our if there are members near you!
Related: Catholic Evangelization: 6 Clear-Cut Strategies That Really Work
(Married Couples Only)
Teams of Our Lady was founded in France in 1938 by a young couple and Fr. Henri Caffarel.  The mission was to support married couples, to enrich and sanctify their relationships, and "develop holiness within the Sacrament of Matrimony."  It is orthodox and Christ focused.
"Teams of Our Lady is an international lay movement in the Catholic Church, designed to enrich marriage spirituality and make good marriages better. Teams provide a proven method of increasing and improving prayer life, which will help couples grow closer to God and each other.  At the same time, their family will reap the benefits as well."
Each team has between 5 and 7 couples and as you meet, you grow closer in friendship with the other couples and in your own marriage.
Personal Experience: We just joined a Team within the last year and are already reaping the benefits.  We feel encouraged in our prayer life as a couple and have been communicating better because of the endeavors that are focused on.  Additionally, when we joined, we did not know any of the other couples.  But we all quickly became friends and hang out regularly.  Everyone participates because they want to strengthen their marriages, grow closer to Christ, and have more faithful Catholic friends.  We cannot be happier with our decision to join.
How it works and how to join: It requires only meeting monthly. 
Each month a different couple hosts all the couple, if they can, and the meetings consist of the following.
Show up, hang out, catch up with everyone
Eat and everyone shares their good and bad moments of the month, if they want to.
Scripture Reading and Reflection
Everyone shares prayer intentions, if they want to.
Sharing about prayer endeavors and accountability. (No pressure)
Discussion of the monthly study topic
Close of Meeting, Hang out some more
To start, you are going to have to either find an existing Team, and see if there is room for you, or you will have to form a new one.  The good news, is forming a new Team is very easy and if you are interested, there are probably several other couples nearby who will be to.  Check out their website to learn more about forming a Team here.  
We strongly encourage you to join or form a Team.  You will be blessed by it.
Related: Catholic Evangelization: 6 Clear-Cut Strategies That Really Work
(Anybody can join)

The Legion of Mary is a lay apostolate TAHT seeks to bring glory to God by prayer and service.  It was started in Ireland in 1921 by Servant of God, Frank Duff, and was inspired by the True Devotion to Mary by St. Louis Marie de Montfort.  Legion of Mary is very active in most parishes, no matter how reverent the Masses are, but the members are in general focused on reverence, personal holiness, prayer, and outreach on behalf of the Church.

The more often you attend meetings, the better you get to know the other members of the group and over time you build really strong friendships based on the common desire to grow in holiness, serve the Church, and honor Our Lady. 
 
Personal Experience: We have never had any personal involvement with the Legion of Mary.  But we have several friends who are members and they love being a part of it.  We have seen Legion of Mary members set up at our local County Fair and going door to door, doing evangelization work. 
 
How it works and how to join
 
To join one must apply for membership in a what they call a praesidium.  Praesidiums are the groups that function within each local parish. They usually meet once a week and if you want to join, you have to undergo a probationary period before you are asked to make the Legionary Promise.
Each meeting usually consists of the following:
1. The Rosary
2. Spiritual Reading
3. Handbook Discussion
4. Business Matters
If you are interested in joining, just call the parish and get the contact information of the person who heads up the group.  It's as simple as that.  Then see if it's a good fit. Check out their website to learn more about the Legion of Mary, check out their website here.
Related: Catholic Evangelization: 6 Clear-Cut Strategies That Really Work
Friendship is so important for our journey and in a world where so many people are lonely and starving for interaction, Catholics should be known for our strong friendships and supportive nature.  But it starts with you making the effort.  If you feel called to make a greater effort to help others who may be lonely and seeking friendship, then check out this post on Building Strong Catholic Community.

If you are struggling to find more Catholic friends, these three groups are a great way to start.

We hope this helps.
PAX,
Tony and Kendra