Help Support this Apostolate by Subscribing for Access to the Premium Map for 1 Year!
Please allow 24 hours after payment for access. 
The most authoritative list of faithful Catholic locations mapped out across the United States.
As a Catholic, being part of a faithful and supportive parish community used to be as easy as walking down the street to your local Catholic Church.
Sadly, with many embracing worldliness and modernism, it is not so easy anymore.  Not every Catholic Church teaches the full Gospel of Jesus Christ, and just because someone says they are Catholic, it does not mean they believe everything or even anything the Church teaches. 
Who can you trust? Where should you go?
Thankfully, there are still many fantastic, faithful, and authentically Catholic resources out there, especially in the United States.  You just have to know where to look. 
You can now find Reverent Catholic Mass Churches, Homeschool Groups, Faithful Catholic Grade Schools, Colleges, Pro-life Organizations, Opus Dei Centers, and Pilgrimage Sites all in one place.
If you want to have the support in your spiritual, liturgical, and parish life, how do you get those resources in the community where you live or where you plan on going? 
You need to know where things are.
With the New Premium Map, you will have... 

THE REVERENT CATHOLIC MASS, CHURCH MAP

FAITHFUL CATHOLIC COLLEGES AND SEMINARIES MAPPED OUT

OVER 100 FAITHFUL, CATHOLIC SCHOOLS MAPPED OUT

HUNDREDS OF CATHOLIC HOMESCHOOL GROUPS / COOPS
LOCATED ACROSS THE COUNTRY
 
A SOLID LIST OF CHRIST-CENTERED RETREAT CENTERS
 
A LARGE LIST OF PRO-LIFE ORGANIZATIONS AND PRO-LIFE OB/GYNS

A GROWING LIST OF NATIONALLY RECOGNIZED
CATHOLIC INSTITUTES AND MINISTRIES

A GROWING LIST OF CATHOLIC MEDIA AND PUBLISHERS

FAITHFUL LAY ASSOCIATIONS SUCH AS
OPUS DEI, UNA VOCE, AND JUVENTUTEM MAPPED OUT

THE MOST AUTHORITATIVE LIST OF SHRINES, PILGRIMAGE SITES,
AND CATHOLIC INTEREST LOCATIONS EVER COMPILED
The Premium Map will give you everything you need to find supportive and faithful resources across the United States so you can have the change you want in your spiritual, liturgical, and parish life.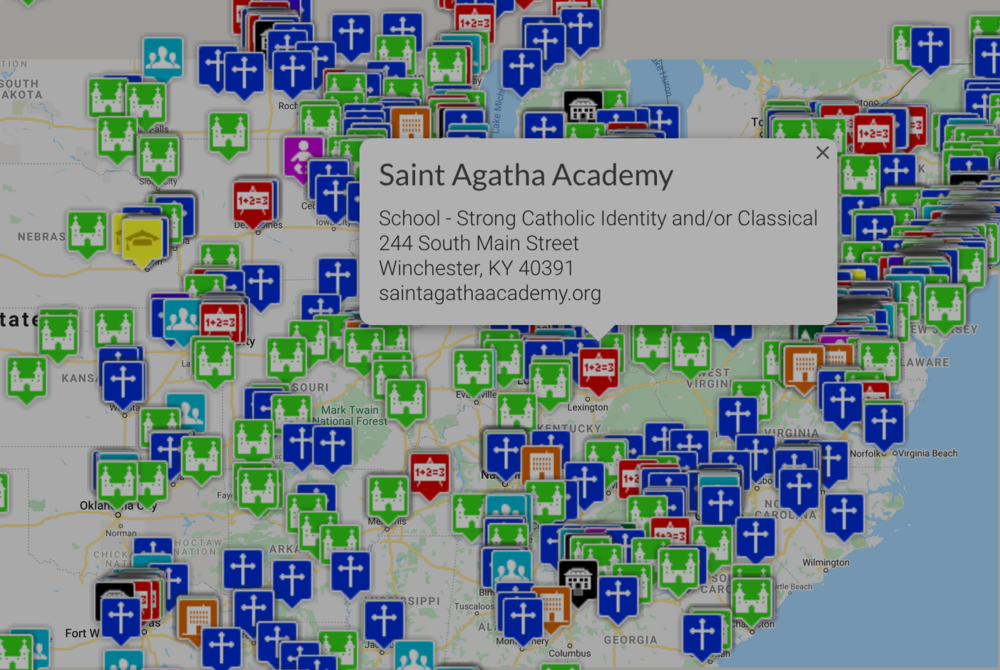 Some Personal Information:
We think it is important for you to know that we are in no way interested in trying and make money off the Church.  In order to keep this ministry running, it takes countless hours to compile the lists and to make updates. There are also many costs associated with operating a website. 
We pay for this ministry out of pocket and with our time because we believe in the mission to encourage reverence at Mass and to help others who are on the journey to encounter Jesus Christ in the Holy Eucharist.  
If you believe in this mission and/or these resources have helped you, please consider purchasing the Premium Map for 1 year, or donating here.  We will be very grateful for your help.
For 1 Year Access to the Premium Map, Purchase Below!
PAX,
Tony and Kendra